Masks still required in our clinic.
Flu shots are still available until 15th December 2023.
COVID-19 vaccines are currently unavailable.
Emoto Clinic
In 2023, We celebrated the 10th anniversary of the opening the Emoto Clinic. We look forward to see it continue to grow and develop into the future.
We are providing the total healthcare for all patients with particular emphasis on the following,
1. Diabetes care and treatment,
2. Therapy for thyroid and other endocrine diseases.
3. Prevention and early intervention for Metabolic syndrome and related diseases.
Docks for evaluation of glucose intolerance, thyroid function test, ultra-sound screening for thyroid tumors.
We also provide the primary health care for the residents in our community, such as flu, hypertention, dyslipidemia and other common deseases.
Our office is located in the central area of Ube city.
1-4-10 Kamihara, Ube, 755-0022
Open-hour: 9:00-12:30 (Mon-Sat), 14:00-18:00 (Mon, Tue, Wed, Fri)
Reservation is not required.
Access map
1-4-10 Kamihara, Ube city, 755-0022 Japan
Take South 50m at the traffic signal near Sun-Life Ube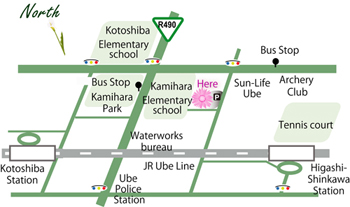 Detailed map (external link)
Public transportations
Train station:JR-Higashi_shinkawa(400m)、JR-Kotoshiba(800m)
Bus stop:Archery club(100m)、Kamihara Park(400m)、Higashi_shinkawa(450m)